System Architecture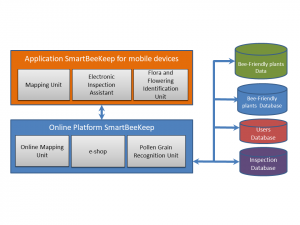 The implementation of the idea and the development of the application will be based both on scientific and technological knowledge, as well as on the real needs identified in the field of beekeeping practices in the European area.
The implementation of the proposed applications includes three distinct levels:
(a) the environment and biodiversity
(b) Beekeeping activity and
(c) the yield of the botanical and geographical origin of the beekeeping products.
All services will be integrated in an easy to use and friendly environment that can be used easily and efficiently by all users of the applications. This environment will be based on: a) geospatial databases (beekeeping users and inspections), b) an online geospatial data management platform on which the various subsystems of the application will be developed as plugins, and c) an application for mobile devices that communicates with the internet platform and implements additional services.